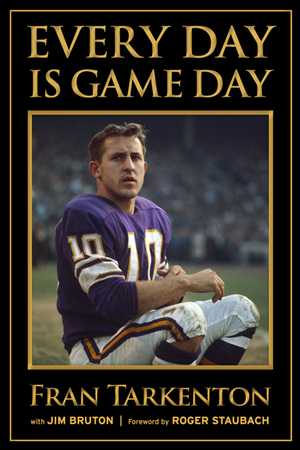 Mike Powers sits down to talk to Fran Tarkenton, former professional football player, TV personality, and computer software executive. Tarkenton played for the Vikings from 1961 to 1966, during this time he developed the nickname scrambler as he ran around the backfield to avoid being sacked by the opposition. Tarkenton was traded to the New York Giants in 1967 and played there until 1972 when he was traded back to Minnesota. He retired after the 1978 season and held every career quarterback record in the National Football League at that time.
Filled with never-before-heard stories and dozens of personal photographs, Every Day Is Game Day is the entertaining and uplifting memoir of the legendary sports figure and business entrepreneur.
From the alleys of Washington, D.C., to Athens, Georgia, the NFL, and beyond, Tarkenton takes the reader inside the huddles of his world, both on and off the field. He shares his highest of highs–those glory years in purple, business triumphs, and the deep and abiding love of family and friends. He also reveals his lowest of lows, including the day of the infamous Cowboys' "Hail Mary" pass that spelled playoff defeat for the greatest Vikings team ever and compounded with a personal tragedy to make it the worst day of his life.
This is not just the story of an incredible athlete, but also a portrait of a genuine and inspirational leader who has touched the hearts and souls of so many who have crossed his path.
Read his blog at http://www.frantarkenton.com/
Purchase Every Day Is Game Day
on Amazon.