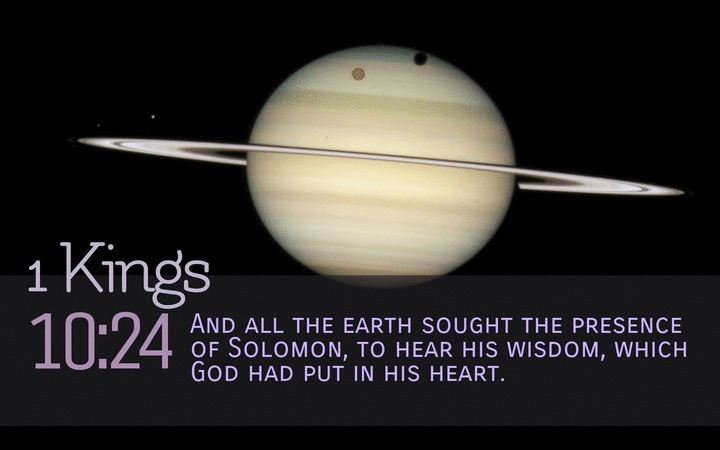 It's happened to you recently … you were at a temporary loss for words, not knowing how to respond. And then, seemingly our of nowhere, the ideas came, the words flowed, and the person you were speaking with was helped, encouraged and lifted.
I'm Dr. Matthew Lee Smith and I want to share some Hope For Today to remind us that God puts wisdom in our minds!
Let's face it … most of us are average, at best. We struggle with those who seem to "have it all together" and "know just what to say." In our alone times, we look in the mirror and see someone very plain, very ordinary. And we wonder, sometimes aloud to ourselves, "God, could you ever use someone like me?" To this, we need to remember, "And the whole earth sought the presence of Solomon to hear his wisdom, which God had put into his mind." (1 Kings 10:24, ESV)
"Oh thanks – now I feel even worse!" you say to me? Well, don't. Remember, Solomon wasn't very bright until God put the wisdom into his gray matter! And how did Solomon get that wisdom? He asked for it!
Today, before you step out the door, before you go to that lunch meeting or that dinner event, take a few minutes alone with God. ASK Him for wisdom – His wisdom, supernatural wisdom, the wisdom you do not possess. Ask God to step in and transform your mind, allowing you to remember the things you have read, the truths you have heard from His Word and use those in your decisions and discussions starting right now. God answers prayers like that! He did for Solomon! He will for you as well!
Hope For Today is a part of the ministry of Eagles In Leadership. If you would like to know more about the hope God gives and His abundant life through Jesus Christ, I would invite you to check out our website: Eagles In Leadership. org; that's Eagles In Leadership .org.