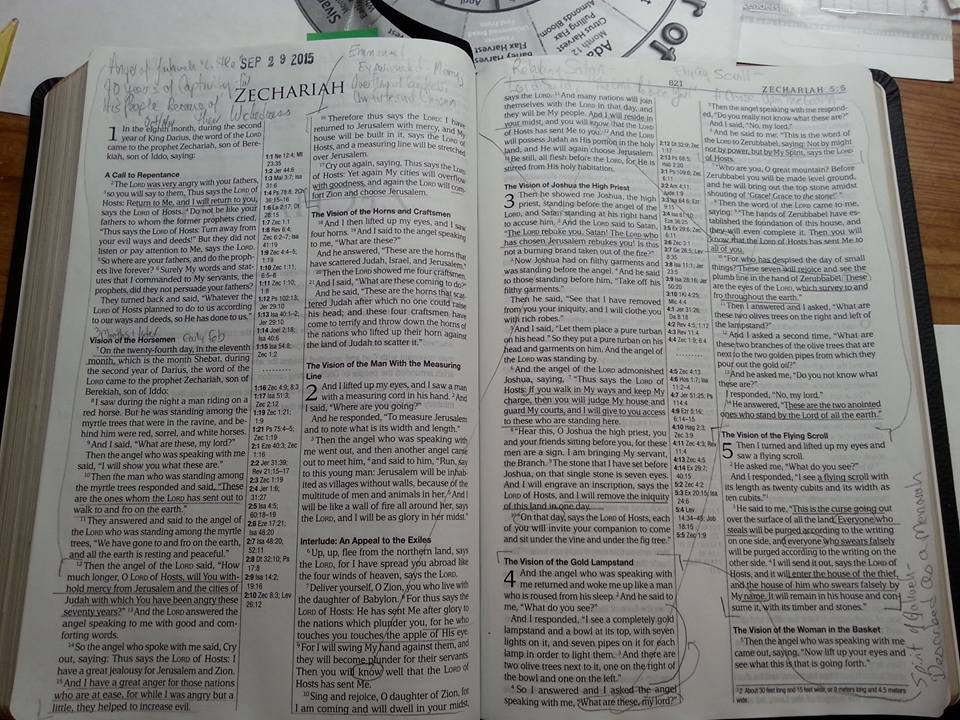 God Wants to Speak With You!
In just 15 minutes a day, you'll read the whole Bible cover to cover in 2016. I'm just finishing my 37th read and looking forward to the coming year! Melodee has finished her 30th read and here's what she said: "Just finished my 30th read through the whole Bible! I learned so much this year about health, rest, faith and fear! It was an amazing year walking through the words of God. What an amazing God we serve!"
Think about it … track what God says about faith, mercy, grace and hope … and so much more! What changes could God bring if you just looked for these subjects as you read this year? 
Will you join us in discovering the will and whim of God for your life through the Word of God this coming year? Just print out the reading schedule at this link.
Will you start your spiritual adventure with us on January 1st?

The Process is Simple:
Many don't know where to start. Here is a simple process I use:
1)   Get a fresh Bible, preferably in a translation you haven't read before or for a while.
2)   Ask God to open your eyes, your ears and your heart as He speaks to you through His Word each time you read it. (This is a daily request)
3)   Search for what the Bible says on the following issues:
Faith
Mercy
Grace
Hope
This is the key to success!
4)   Read the chapters on the "Whole Year Reading Schedule" each day out loud, slowly.
5)   Listen to the whispers of the Spirit as you read, as He reveals God's will concerning faith, mercy, grace and hope (and so much more).
6)   Write down what you discover in a notebook or on a document file in your computer or device to share with others and to track what God is teaching you personally. (I like to review these often – Sunday evenings are a good time for me.)
7)   Share what you are learning with others in your church on a regular basis, and with the others in your ministry team / small group to encourage them in the Lord.
Each time I read the Word of God, I am amazed at how practical His will and whim are. It encourages the soul, transforming us into His image each day we step into His presence through His Word and then act on the things HE says that day.
How to Stay Consistent!
As I mentioned, I have read cover-t0-cover 37 times. Staying consistent is something I understand is a difficulty. Here's some tips and tricks I have learned over the past 32 years.
1) Do it with someone else – we are always supposed to walk with others on our spiritual journey.
2) Stop "reading" and start searching (Proverbs 2:4) the Bible for what it says on the following issues:
Faith
Mercy
Grace
Hope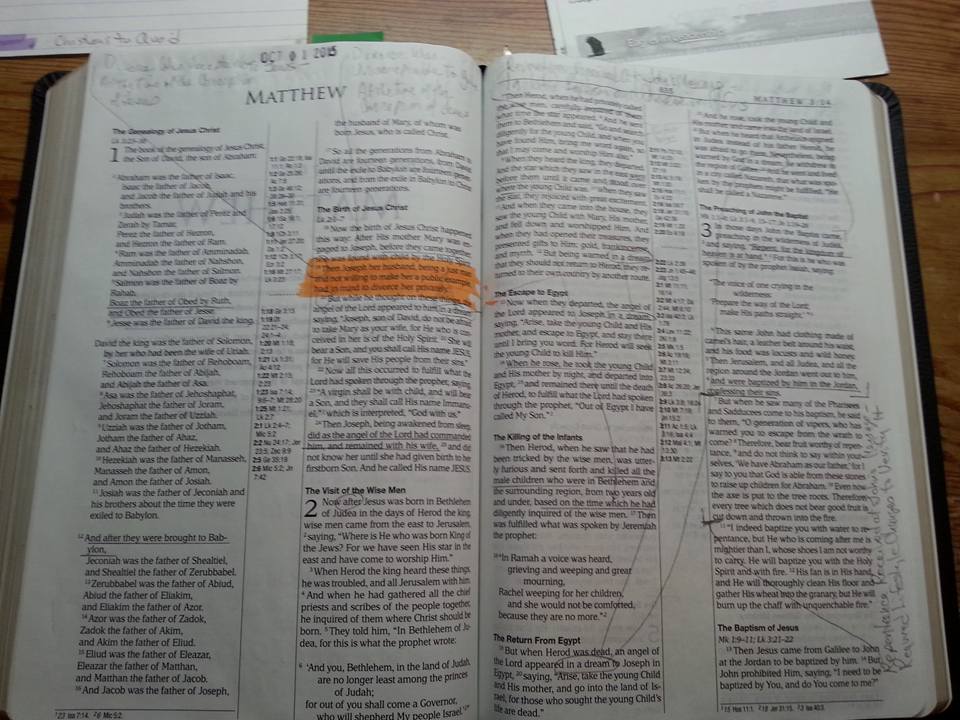 3) Understand this is the primary way God speaks to you through the Spirit, so read the Bible out loud (Romans 10.17) and listen to God speak to you.
4) Get a fresh translation – I HIGHLY recommend the New Living Translation (NLT)! Wow, it will blow your mind!
You CAN Do This!
I know you can do this. And when you start FINDING things, things that impact your daily life – which is really God speaking to YOU!!! – your desire to be in God's Word grows into a daily need!
If you have questions, need help, or just want to comment, please, feel free. I'm here to help!
And yes, the pictures are from my Bible 2015 (Zechariah and Matthew) and 2016 (Blank Genesis).