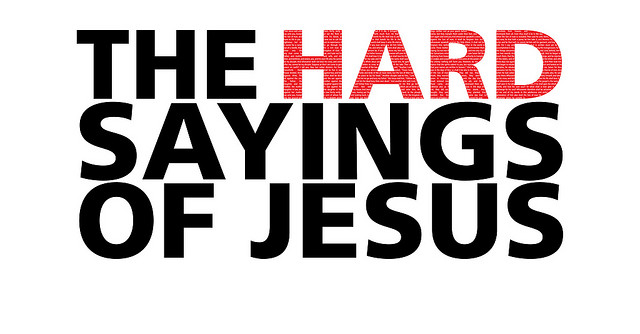 Belief is truth held in the mind; faith is a fire in the heart.
~ Joseph Fort Newton
Faith in Jesus isn't an app we can turn on and turn off when we want to. Faith is an absolute calling to the Person, to His agenda, to His will, to His leadership and to His kingdom. That calling is absolute … resolute. Repeatedly during His earthly ministry, Jesus called His disciples to a greater and higher trust in His words and will.
As the crowd begins to thin at the synagogue in Capernaum long ago, Jesus' discussion about the eternal is more than many of those who have been loyal to Him can stand. As He declares the need to participate in the Passover Meal, Him being the focal point as the Lamb of God that takes away the sin of the world, the Jews begin to react en masse …
"Therefore many of His disciples, when they heard this, said, "This is a hard saying; who can understand it?" When Jesus knew in Himself that His disciples complained about this, He said to them, "Does this offend you? What then if you should see the Son of Man ascend where He was before? It is the Spirit who gives life; the flesh profits nothing. The words that I speak to you are spirit, and they are life. But there are some of you who do not believe."
For Jesus knew from the beginning who they were who did not believe, and who would betray Him. And He said, "Therefore I have said to you that no one can come to Me unless it has been granted to him by My Father." From that time many of His disciples went back and walked with Him no more." (John 6:60–66, NKJV)
We imitate Jesus when …
We accept that He calls us to hard things that will take all of our commitment, all of our loyalty and, at times, all of our tenacity to trust Him, despite the difficulty of that call and command.
There in the worship center that day in Capernaum, the bottom line of walking with Jesus became clear. Either "Christ … is our life …" (Colossians 3:4, NKJV), or He is not. Despite the confusion or the conundrum, regardless of the difficulty or the displeasure, Jesus is Lord, or He is not.  For many of those in Capernaum that day long ago, Jesus was not.
Dietrich Bonhoeffer once said, "When Jesus bids a man come, He bids Him come and die." Truly this is the call of faith. We "deny ourselves, take up our cross, and follow Him." This is Jesus' pathway to the eternal, abundant life He speaks of. (Matthew 16:24-25) Any commitment of lesser strength causes one to go back to the old life and walk with Him no more.
What shall it be today? Is He worthy of all my commitment, all my loyalty, all my life? Or is Jesus just an app I pull out when I need some help and close when the situation passes?
© 2013 Dr. Matthew Lee Smith. All rights reserved. Not for resale.