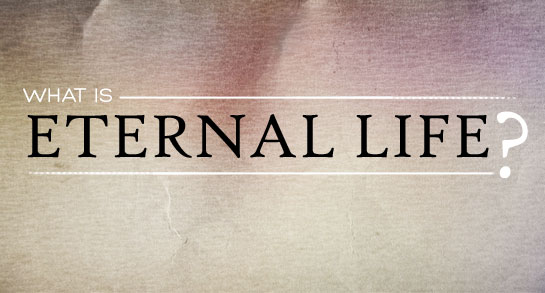 But what is eternal life? Is it eternal self-esteem? Is it a heaven full of mirrors? Or snowboards, or gold links, or black-eyed virgins?
No. Jesus tells us exactly what he meant: "And this is eternal life, that they know you the only true God, and Jesus Christ whom you have sent" (John 17:3). What is eternal life? It is to know God and his Son, Jesus Christ.
~ John Piper
Eternal life … what is it and what do we do to get it? While evangelicals and conservatives love "salvation formulas and prayers," Jesus knows nothing of such simplicity. Jesus is longing for something much deeper, more sincere and abiding.
At the synagogue in Capernaum, Jesus' discussion with the Jews has escalated to the eternal in ways few could comprehend. In speaking to them about who possesses eternal life and who does not, we read …
"Then Jesus said to them, "Most assuredly, I say to you, unless you eat the flesh of the Son of Man and drink His blood, you have no life in you. Whoever eats My flesh and drinks My blood has eternal life, and I will raise him up at the last day. For My flesh is food indeed, and My blood is drink indeed. He who eats My flesh and drinks My blood abides in Me, and I in him. As the living Father sent Me, and I live because of the Father, so he who feeds on Me will live because of Me. This is the bread which came down from heaven—not as your fathers ate the manna, and are dead. He who eats this bread will live forever."" (John 6:53–58, NKJV)
We imitate Jesus when …
We consume His flesh and blood, participating in the very celebration of His death through the communion service He initiated.
"Christ … is our life …" (Colossians 3:4, NKJV) Is He? Does He so captivate our waking moments and possess our plans and goals that He is truly our life? This is what Jesus is explaining. He is so committed to us that He died on the cross, giving His body and blood for our eternal redemption and relationship.
Now He asks if we feel the same way about Him. If we do, we will participate in the Passover Meal, the sacrifice of His life, the death of the Lamb of God who takes away the sin of the world. The bread represents His body. The cup represents His blood. The ceremony represents our faith commitment to Jesus alone – there is no greater call or purpose.
And who would complain about such commitment? After all, every married person expects nothing less of his or her spouse. Why would it be any different from the Bridegroom of the Church?
© 2013 Dr. Matthew Lee Smith. All rights reserved. Not for resale.