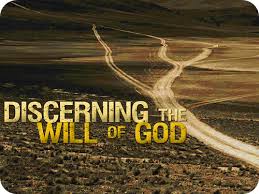 "Do you think, asks the Sovereign Lord, that I like to see wicked people die? Of course not! I only want them to turn from their wicked ways and live."
~ Lord in Ezekiel 18:23 (NLT)
For most people, the will of God is one of the great mysteries of life. "What does God want from me? What if I could only sit down and talk to Him? I would ask Him what He wants from me!"
On that beach in Galilee so long ago the multitudes questioned Jesus' credentials for public ministry. In His response, realizing they were not believing His words, Jesus reveals God's will for all of our lives when He says …
"But I said to you that you have seen Me and yet do not believe. All that the Father gives Me will come to Me, and the one who comes to Me I will by no means cast out. For I have come down from heaven, not to do My own will, but the will of Him who sent Me. This is the will of the Father who sent Me, that of all He has given Me I should lose nothing, but should raise it up at the last day. And this is the will of Him who sent Me, that everyone who sees the Son and believes in Him may have everlasting life; and I will raise him up at the last day."" (John 6:36–40, NKJV)
We imitate Jesus when …
We do the will of God, believing in Jesus every day.
Perhaps this is the great mystery. Many come to God asking for the map, when in reality God gives us the Guide. We want the direction; God gives us the Person. We want a clue; God gives us a Companion.
The will of God is a person – Jesus! He is the One you must trust, obey, follow, speak with, ask, seek, and walk with. The will of God is a daily thing made up of countless small decisions, all tracing themselves back to the simple root: I believe Jesus is leading me where I need to go!
Do you trust Jesus this way? He's more than a prayer for salvation. He's greater than a doctrine of belief. He's a companion and a comforter. He's the lover and leader of life! When you trust Him enough to allow Him to lead you, you will begin to experience the will of God … and one day, He will reward you with eternal life so that you can be with Him for all eternity (just as you have enjoyed Him in this life)! The journey will never end! This is the will of God!
© 2013 Dr. Matthew Lee Smith. All rights reserved. Not for resale.