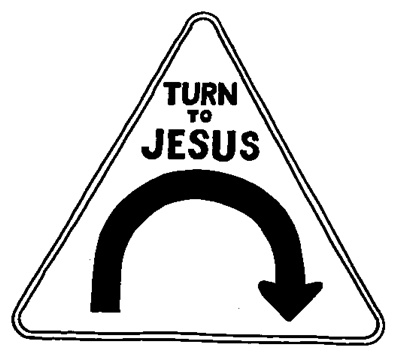 Artwork courtesy of richardgleaves.blogspot.com
It's never too late!
No matter how far you have gone on a wrong road, turn back.
-Turkish proverb
Disciples proclaim a need for life change to each person they meet! Repentance is the Biblical term that signifies a change in loyalty, a submission of one's will to the King of kings, Jesus. Having commissioned the Twelve to minister for Him, Jesus sends them out. Note they proclaim a simple message: "People should repent!"
Before any long-term life change can occur, one must come to the understanding that they need to surrender to the love and leadership of King Jesus. Once that step is made, hope and healing can flood the soul and life of anyone. As the Gospels point out in parallel passages, preaching the Good News of the Gospel is telling people they should repent.
"So they went out and preached that people should repent. And they cast out many demons, and anointed with oil many who were sick, and healed them." (Mark 6:12–13, NKJV)
"So they departed and went through the towns, preaching the gospel and healing everywhere." (Luke 9:6, NKJV)
We imitate Jesus when …
We proclaim to the people we meet that there can only be one Lord of life, and His name is Jesus!
There is sweetness to our life of submission. Jesus provides what we have searched for our entire life. Where we have looked for intimacy through sex, Jesus provides love through sacrifice. For our misguided search for happiness from a bottle, a buffet or a bonanza of cash, Jesus plants real joy in our soul through a loving, loyal relationship that never flees, no matter the mess we are in. Repeatedly we discover that all we have ever sought for can be found in the inexhaustible riches of the One who loved us and gave His life for us. He generously replenishes what we leak and fills us again and again with His never-ending compassion and care.
Telling someone else of the amazing grace of Jesus is so easy for the true disciple. Their daily experience with the fountain of hope and help provides a never-ending source of timely testimonies. As you share from the abundance of God's mercy and Jesus' grace, draw people to surrender. Nothing else provides the hope and help they look for!
© 2012 Dr. Matthew Lee Smith. All rights reserved. Not for resale.