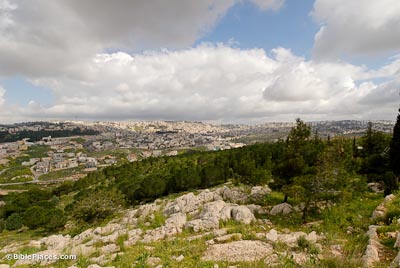 "After Herod died, an angel of the Lord suddenly appeared in a dream to Joseph in Egypt, saying, "Get up! Take the child and His mother and go to the land of Israel, because those who sought the child's life are dead." So he got up, took the child and His mother, and entered the land of Israel. But when he heard that Archelaus was ruling over Judea in place of his father Herod, he was afraid to go there. And being warned in a dream, he withdrew to the region of Galilee. Then he went and settled in a town called Nazareth to fulfill what was spoken through the prophets, that He will be called a Nazarene." (Matthew 2:19–23, HCSB)
Walk through the town where Jesus grew up! Situated inside a bowl atop the Nazareth ridge north of the Jezreel valley, Nazareth was a relatively isolated village in the time of Jesus with a population less than two hundred.
Today Nazareth is home to more than 60,000 Israeli Arabs, and Upper Nazareth is home to thousands more Jewish residents.
Very little is known about Nazareth from the ancient sources.  Outside of the New Testament, Nazareth is never mentioned until the Byzantine period (4th c. AD).
Archaeological excavations have confirmed that the city was only a small agricultural village during the Hellenistic and Roman periods.
A Byzantine church was built over the place where it is believed that the angel Gabriel announced the birth of Jesus to the virgin Mary.  In 1966 the Roman Catholic Church began constructing a new basilica over these remains and today this church is the largest church building in the Middle East.  The Greek Orthodox Church nearby is built over the town's water source.
Jesus spent his boyhood years in Nazareth before beginning his ministry when he was about 30.  After moving his home to Capernaum, Jesus returned to teach in the synagogue of Nazareth twice more, but was rejected both times.  On one occasion the townspeople were so outraged at Jesus that they tried to throw him off a cliff to his death.
You will see this as you tour Israel with us in February 2013!
There's Still Time to Register For This Trip!
Melodee and I want to invite you to join us on this amazing, once-in-a-lifetime trip. Don't miss this opportunity! God wants to transform your life like He has done to us!
This is a 10-day trip leaving February 18th, 2013. We have made it easy for you to join us with a choice of departures cities across the country: You can choose to leave from Los Angeles, Chicago or New York.
Details and a brochure with all the details are located at this link. We encourage you to get your deposit in while space is still available!
Melodee and I are here to answer all of your questions! You can email us at: pastormatt [@] eaglesinleadership.org
We look forward to touring with you in Israel in February!