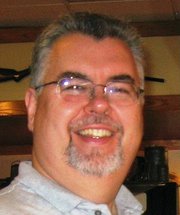 by Pastor Mark Haines
We welcome Pastor Mark Haines to Eagles In Leadership this week. He is a happy husband, father, grandfather and pastor living in the Great Lakes Bay Region of Michigan. You can learn more about him at his website.
Our church has been struggling financially.  Many of our members lost their jobs as well as their savings in this recession.  How can we pray for our church's finances?
Here are a few suggestions based on God's principles for finances and generosity.
Principle #1: God evaluates your giving based on your heart motives and your ability to give, not on the amount of your offering.
(Mark 12:41—44; 2 Corinthians 8:2)
Ask God to help your congregation's constituents to see every tithe and gift to the Lord is important.  That way no one will miss out on a blessing by thinking his/her giving won't be missed.
Pray for the ability to give generously.
Principle #2: Find help and instruction to help everyone in your church to enjoy the freedom of getting out of debt.
Pray that the families and individuals in your church will pay off any outstanding debts they may have in order to experience financial freedom.
Principle #3: Giving should come from the cheerful generous heart of one who loves God.
Pray for your church members to love the Lord so much that they see giving to Him through the church as a joy and a privilege. Then, they will give generously as God enables them.
Principle #4: Give to God not only as an act of thanksgiving, but also in obedience to His command. When you obey Him, He promises to meet all your needs and to bless your lives.
(Malachi 3:6-10; Philippians 4:19)
Ask the Lord to give each member the courage to accept God's challenge to test Him by giving at least a tithe (10%) of his/her income, even if it seems impossible.
Thank the Lord for honoring His promise to pour out a blessing on those who give.
Ask that as God pours out His blessings, whether material or spiritual, the person receiving them will know them as God's blessings sent because of their obedient giving.
Principle #5: Your tithe should be the first thing you pay.
Ask the Lord give each member the courage to trust Him to meet all his or her needs as they give to Him first and then pay their bills.
Principle #6: Money can be used for good or for evil.
Ask the Lord to give each member the sense of contentment we all need to resist greed, and the desire to "keep up with the Jones's."
Pray for wisdom in how you spend and invest your money, especially so you can reap eternal dividends.
QUESTION OF THE DAY:
How do you pray for your church's finances?