By Dr. Matthew Lee Smith
As the Christmas season came to a close, I can remember how the focus for many was on themselves. They were interested in what THEY were going to get, what parties THEY were going to and what things THEY were going to be doing.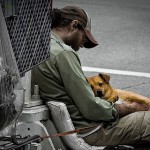 In contrast to this was Christmas morning as we bundled out of the car to head for the restaurant for breakfast … a Christmas tradition in our family. As we stepped onto the sidewalk a homeless man with a shopping cart and a little dog asked if we could spare any change. Since I don't carry any, I politely told him I had nothing on me.
Sitting at the booth, my wife Melodee ordered him a "to go" breakfast, and when it arrived, she immediately took it to him. The jumbo coffee and hot breakfast were gratefully received. When she came back to the table I sat there in awe of my wife who was more interested in being of service to this one man in a difficult situation than she was about how well we were served our traditional Christmas breakfast – her breakfast was cold.
This year, we can all remember that there are two motivations in life – one selfish, the other selfless. Do we see the needs all around us? Do we love our neighbor as we love ourselves? As we ate our breakfast Christmas morning, I was sure that one person did, and she was sitting right across from me.
And that brought a question to my mind as I sat there: Will I be more interested in my service of others or how others serve me in 2012? What about you?