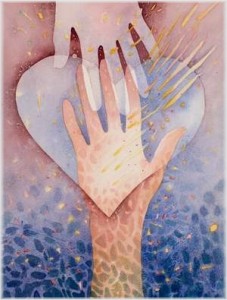 Image Credit: mimosaspirit.com

Have you ever struggled with a "spiritual discipline" because you think the very nature of the phrase conjures up forced obedience? If you have, let me turn your thinking on the matter. I believe …
Discipleship (Spiritual Disciplines) is just a means to falling in love with Jesus more than with anything or anyone else.
Discipleship is about getting to know the other person in this relationship – Jesus – so that you understand, enjoy and want to be with him, more than anyone or anything else, to the exclusion of anyone or anything else in life! And that is what the spiritual life is really all about. Consider how the Lord looks at the depth of our relationship and what it should become …
Thus says the Lord: "Let not the wise man boast in his wisdom, let not the mighty man boast in his might, let not the rich man boast in his riches, but let him who boasts boast in this, that he understands and knows me, that I am the Lord who practices steadfast love, justice, and righteousness in the earth. For in these things I delight, declares the Lord." (Jeremiah 9:23–24)
Now get this" If you are unwilling to do the hard work of relationship, you are not in love.
Spiritual disciplines = Relational disciplines!
It's either relational discipline or relational disaster! I have seen it too many times, in my ministry as a pastor, the downward staircase of relational disaster, committed by someone who simply doesn't love enough. (The same can be true of a marriage or of our walk with God)
–       Drift – the heart begins to grow lax on the disciplines of love
–       Dangers – others are more than willing to throw themselves at you
–       Drunkenness (lust) – accepting the offers of other lovers becomes intoxicating and soon, we are addicted to false love (lust)
–       Desertion – then we simply choose to feed our addiction to our false love and abandon our first love for the pleasures of sin for a season
–       Divorce – soon we simply jettison the other person in the relationship, for we have no room for them.
But Jesus clarifies what true love for another is all about …
"Greater love has no one than this, that someone lay down his life for his friends. "
(John 15:13)
Because we love, we sacrifice! If we don't love, we don't sacrifice. It takes discipline to maintain a relationship … with God or with another. Melodee and I have practiced the relational disciplines in our marriage. When we let them go, the relationship suffers. When we practiced them, the relationship grows. The same is true when it comes to our relationship with the Lord.
Have you noticed your love grow stronger as you discipline yourself to focus on the other person in the relationship? How does this apply to your love for Jesus? I'd love to hear!
You Can Book Dr. Smith For Your Meeting or Event!
"Dr. Matthew Smith has a passion and love for God's Word and for God's people. He lives to equip God's church and He uses many of his God-given talents to galvanize, energize and equip the body of Christ. Dr. Smith not only has the brilliant mind but also a humble heart. The best sermon I heave heard him preach is the life he lives. He is a loving father, family leader and a leader in the faith community. I recommend him without hesitation."
By Daniel Mehrabian, researcher at Araratministries, (Greater Los Angeles Area)
Biblical leadership, passionate evangelism and discipleship, a missional heart and lifestyle, authentic personal relationship with God – Dr. Smith will come to your church or organization and speak on any of these areas. We have open dates in April, May and June and would love to talk with you about making your meeting, event or worship service a special time of growth, joy and inspiration. For more information, contact us at admin[at]EaglesInLeadership.org (of course, remove the [at] and replace it with @). We look forward to your email!