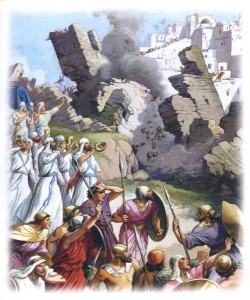 Editor's Note: We continue our series of blogs for those who are reading the Bible with us cover-to-cover this year. Interspersed with our thoughts on our daily reading, we want to provide some tips about reading the Bible in general. Today we want to explore …
Joshua: The Invasion of the Land for Israel (about 25 years)
In Joshua we see the nation of Israel finally achieving the long-awaited victory over the inhabitants of the land promised to Abraham by God. In this book, we see the systematic war of conquest led by the new military leader, Joshua. It is his name that this book bears. As we read, it is easy to see the mistakes of the past have been learned, and avoided as much as possible. It is easier to understand the book if we divide it into four parts. Today we will look at the second part …
Israel Takes The Fortified Stronghold Of Jericho (Joshua 6)
Jericho is the lynchpin to the success of the military campaign in the Promised Land. As such, it is the first and most difficult obstacle that confronts Joshua and the nation of Israel. In this chapter, God desires to demonstrate his power over the enemies of Israel, and infuse the people of God with a critical principle:
Whatever God gives first, belongs to God!
Notice …
The strange attack plan of God, marching in silence and then, on the last day, shouting in praise! (Joshua 6:1-17)
The separation of the spoils for God, not allowing Israel to take anything of value from the victory! (Joshua 6:18-19)
The success of this peculiar plan of God, enjoying the victory God had supernaturally given to them! (Joshua 6:20-27)
It is our hope that this background information helps a bit as you read on in the Bible. We will continue this series with our next installment on Tuesday when we talk about "Israel Defeats Many of the People."
For daily insights into the passage we are reading together each day, you can follow Dr. Smith on Twitter and on Facebook.
You can obtain more help from the FREE Bible reading schedule on our resource page. In His Image is a daily devotional that also follows our reading schedule and expresses the Biblical truth: "God Created You to Love You." You can find this resource on the side bar of our website.
For Our Los Angeles County Friends!
Dr. Matthew Smith will be speaking on Sunday, March 27th in Long Beach and would like to invite you to attend. He will be speaking on the subject, "Are We Living Jesus' Ultimate Purpose?" There is no fee for this event and all are welcome. Here are the details:
March 27 – 10:45 am Worship Speaker @ University Baptist Church, 3434 Chatwin Avenue, Long Beach, CA 90808 – (562) 425-0912
Hope to see you there!