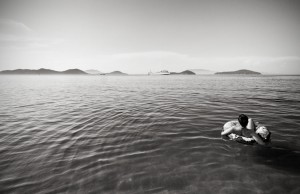 Editor's Note: We continue our series of blogs for those who are reading the Bible with us cover-to-cover this year. Interspersed with our thoughts on our daily reading, we want to provide some tips about reading the Bible in general. Today we want to explore …
7 Actions to Stop Spiritual Drift
Deuteronomy 6:10-19 (ESV)
10 "And when the Lord your God brings you into the land that he swore to your fathers, to Abraham, to Isaac, and to Jacob, to give you—with great and good cities that you did not build, 11 and houses full of all good things that you did not fill, and cisterns that you did not dig, and vineyards and olive trees that you did not plant—and when you eat and are full, 12 then take care lest you forget the Lord, who brought you out of the land of Egypt, out of the house of slavery. 13 It is the Lord your God you shall fear. Him you shall serve and by his name you shall swear. 14 You shall not go after other gods, the gods of the peoples who are around you— 15 for the Lord your God in your midst is a jealous God—lest the anger of the Lord your God be kindled against you, and he destroy you from off the face of the earth.
16 "You shall not put the Lord your God to the test, as you tested him at Massah. 17 You shall diligently keep the commandments of the Lord your God, and his testimonies and his statutes, which he has commanded you. 18 And you shall do what is right and good in the sight of the Lord, that it may go well with you, and that you may go in and take possession of the good land that the Lord swore to give to your fathers 19 by thrusting out all your enemies from before you, as the Lord has promised.
Spiritual drift. These words should freeze our blood when we read them. One of the greatest enemies of our faith is not the obstacle we face, or the enemy who attacks us. No, one of the greatest enemies to our spiritual life is that we would simply ignore God. We get so busy that we forget God – he doesn't remain an integral part of our daily relationship and routine. Moses reminds us that here are seven repeated actions that stop drift in its tracks and provide us with an anchor for our faith.
Fear God! (6.13a) Many have sought to lessen the impact of this word, calling this godly reverence. While this is true, even in the New Testament, the word translated "fear" is the word "phobos" – from which we get the word, "phobia." God wants us to remember constantly who he is and who we are not. Love for him doesn't mean we can blithely live selfish, sin-packed lives without consequence.
Serve God! (6.13b) Paul reinforces our need to change the center of our universe from ourselves to Christ when he says "and [Jesus] died for all, that those who live might no longer live for themselves but for him who for their sake died and was raised." (2 Corinthians 5:15, ESV)
Speak Truth! (6.13c) While we are no longer to take oaths (Matthew 5.37), we are supposed to speak the truth. Why? Because God listens to every word and we will give an account for even every idle word (Matthew 12.36; Romans 14.12). Asking friends to keep us accountable here is a valuable tool against forgetting God's presence and purpose in our lives.
Worship God! (6.14) God is like a spouse – no dating, no infidelity! (Ephesians 5.32) Purity is about pleasure, trust and passion. Drift ends when we throw ourselves into God alone as our life. (Colossians 3.4)
Respect God! (6.16) Testing God's limits is a foolish thing to do, as the nation of Israel could attest to after doing donuts in the desert for four decades! Love, trust and respect all flow from the same heart spring of love.
Obey God! (6.17) Our culture likes to cut corners … this is the stuff of spiritual drift, and evidence we haven't been in God's presence recently. God places his "commandments, testimonies and statutes" in the Word for our benefit. Jesus was clear that He had come to give us an abundant life (John 14.6), and that life comes from obedience to God's guidance. (Deuteronomy 4.40)
Live God! (6.18) Drift ends when we commit to doing what is "right and good in the sight of the Lord." Integrity flows from a heart that is close to God and loves God. It anchors the soul and provides a sure and steady course for life.
Drift ends when we passionately pursue Christ! Living these seven repeated actions can no only transform your life, they can provide direction every day!
It is our hope that this background information helps a bit as you read on in the Bible. We will continue this series with our next installment on Tuesday when we talk about "Vision Casting to Conquer Great Obstacles."
For daily insights into the passage we are reading together each day, you can follow Dr. Smith on Twitter and on Facebook.
You can obtain more help from the FREE Bible reading schedule on our resource page. In His Image is a daily devotional that also follows our reading schedule and expresses the Biblical truth: "God Created You to Love You." You can find this resource on the side bar of our website.
For Our Los Angeles County Friends!
Dr. Matthew Smith will be speaking this coming Sunday, March 13th in Long Beach and would like to invite you to attend. He will be speaking on the subject, "Falling in Love with Jesus!" There is no fee for this event and all are welcome. Here are the details:
March 13 – 10:45 am Worship Speaker @ University Baptist Church, 3434 Chatwin Avenue, Long Beach, CA 90808 – (562) 425-0912
Hope to see you there!