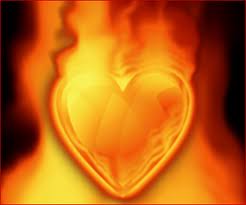 Editor's Note: We continue our series of blogs for those who are reading the Bible with us cover-to-cover this year. Interspersed with our thoughts on our daily reading, we want to provide some tips about reading the Bible in general. Today we want to explore …
Building a Love for God!
o   When we build a heart of love for God we love Him by praising His worthy name to all who will listen.
Moses explains ones of the great exercises that develops a heart for love:
You must fear the LORD your God and worship him and cling to him. Your oaths must be in his name alone. He is your God, the one who is worthy of your praise, the one who has done mighty miracles that you yourselves have seen. When your ancestors went down into Egypt, there were only seventy of them. But now the LORD your God has made you as numerous as the stars in the sky! "You must love the LORD your God and obey all his requirements, laws, regulations, and commands. Deuteronomy 10:20-22, 11:1 (NLT)
This is exactly what we see Paul talking about in Philippians:
Therefore, my beloved, as you have always obeyed, not as in my presence only, but now much more in my absence, work out your own salvation with fear and trembling; for it is God who works in you both to will and to do for His good pleasure. Philippians 2:12-13 (NKJV)
Follow the process carefully …
o   Building a heart of love for God begins with obedience – whether someone is watching or not.
o   Building a heart of love for God means seeking to discern how the pieces of His will fit into the scheme of my personal life.
o   Building a heart of love for God requires an attitude of fear – knowing that we could totally and completely walk a path God never intended for our lives, thus displeasing Him and being unfruitful in His kingdom.
o   Building a heart of love for God finds us constantly listening and seeking God's heart and will – in the Word of God (the Bible) and through the voice of God the Spirit – because we know God wants to work in us to accomplish something supernatural with us.
o   Building a heart of love for God drives us back to the motivation of a life lived with and for God – the good pleasure of His will.
God longs to grow close to you! As we move closer to God, he grows closer to us.
"Draw near to God, and he will draw near to you." (James 4:8, ESV)
It is our hope that this background information helps a bit as you read on in the Bible. We will continue this series with our next installment on Sunday when we talk about "Transferring Faith to the Next Generation."
For daily insights into the passage we are reading together each day, you can follow Dr. Smith on Twitter and on Facebook.
You can obtain more help from the FREE Bible reading schedule on our resource page. In His Image is a daily devotional that also follows our reading schedule and expresses the Biblical truth: "God Created You to Love You." You can find this resource on the side bar of our website.