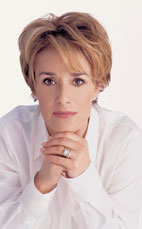 Transformed's Mike Powers caught up with Sheila Walsh this week and spoke about her walk with God, her new book The Shelter of God's Promises and her ministry.
Walsh began her career as a contemporary Christian singer after finishing college with studies in theology from London Bible College (now London School of Theology) in 1979 and music from the London Academy of Operatic Art. Sheila worked as an evangelist with the British chapter of Youth For Christ and sang with a group known as "The Oasis" until going solo in 1981. She also worked closely at this time with keyboard player Chris Rolinson, who contributed extensively to the unique sound on her first "new wave" style album, Future Eyes. He also toured with her on her first United States tour, where she opened for Phil Keaggy. As Sheila enjoyed some success both in the United Kingdom and America as a CCM musician, she was asked by the conservative minister Pat Robertson to serve as a co-host of his television talk-show, The 700 Club in 1987. Sheila served in this capacity into 1992 and also hosted her own talk-show, Heart to Heart with Sheila Walsh.
Ideological differences with Pat Robertson and general feelings of depression brought Sheila to re-examine her life's direction. After leaving Pat Robertson's enterprises in 1992 she sought therapy for her depression, eventually returning to college at Fuller Theological Seminary in California to take on doctoral studies in theology. Pat Robertson explained her departure from CBN as the result of a "nervous breakdown" brought on by the tremendous demands of her work with CBN. He asked his viewers to keep her in their prayers and ask God to give her the strength to continue doing His work.
She went on to write a book exploring her struggle with depression and her experiences with her faith as a Christian, entitled Honestly. While Walsh had written several books on theology before, this autobiography would become the wellspring of her later work on personal aspects of faith and would set the tone for her introspective, personal, but evangelical approach to affairs of modern theology.
Over the course of the latter 1990s, Sheila's work has concerned women's issues within the church and the unique relationship of the contemporary woman with God. Sheila has written over seventeen books including Honestly, Living Fearlessly, and Life is Tough, but God is Faithful. She has also written several books for children recently. She also has continued her musical career as a songwriter and singer and has recorded several albums of new Christian music and traditional hymns arranged to a Celtic sound.
In 2005, Sheila partnered with Tommy Nelson publishers to create a line of children's books and DVDs called Gigi, God's Little PrincessTM. The brand has become the #1 Christian Girl's brand and continues to be popular and release new products today.
Sheila, with her family, is now an active attendee of Prestonwood Baptist Church, in Plano, Texas.