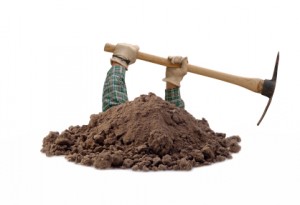 Editor's Note: We continue our series of blogs for those who are reading the Bible with us cover-to-cover this year. Interspersed with our thoughts on our daily reading, we want to provide some tips about reading the Bible in general. Today we are …
Digging Deeper on the Major Old Testament Routes
As you can see, our map for the Old Testament is not as complicated as you might imagine. Actually, these five routes (see Friday's post) are the only major routes through the Old Testament. We will take a brief overview of these routes now in this blog. Again, let's return to the first route of the Old Testament – this route allows us to experience the major events of the people of God as they occur historically.
Following the Original Journey of the People of God
Our first two routes are written as a diary or journal of the actual travels of the people of God in the Old Testament. They are their history books.  As we travel on these two routes, we will be following the original journeys as they unfold, often as if we were participants in the actual events. Considered these two routes:
Route No. 1: Forming the first five books of the Bible. On this route we will explore approximately 2,300 years of the formation history for the nation of Israel. We will look at:
The book of Genesis, the book of beginnings.
The book of Exodus, the book of redemption.
The book of Leviticus, the book of worship.
The book of Numbers, the book of failure.
The book of Deuteronomy, the book of renewed hope.
It is our hope that this background information helps a bit as you read on in the Bible. We will continue this series with our next installment on Tuesday when we talk in detail about the "Old Testament Route Number 2."
For daily insights into the passage we are reading together each day, you can follow Dr. Smith on Twitter and on Facebook.
You can obtain more help from the FREE Bible reading schedule on our resource page. In His Image is a daily devotional that also follows our reading schedule and expresses the Biblical truth: "God Created You to Love You." You can find this resource on the side bar of our website.