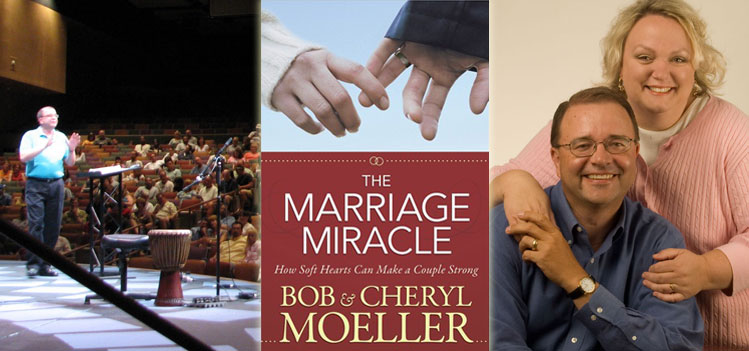 We are excited to have Bob Moeller share with us today on marriage and the recession. As Mike Powers caught up with Bob, they discussed the current stresses and strains a marriage undergoes in times like these.
Bob Moeller is a pastor who cares deeply about marriages and helping couples connect their hearts, for a lifetime. Bob and Cheryl are the Co-founders of For Better For Worse For Keeps Ministries.  Bob is currently the syndicated television host of the weekly call-in program, "Marriage: For Better, For Worse" on the Total Living Network. The TV show is in it's sixth year.  He has authored ten books, two of those books were nominated for Gold Medallion Awards.  Three of those books are on marriage, written with Cheryl, including The Marriage Miracle, Keep Courting:  100 Ways to Keep Courting After Marriage, and For Better For Worse For Keeps.
Bob is an in-demand conference and weekend retreat speaker, author, television host, radio personality, and someone who works with couples to help them connect their hearts in marriage. Bob and Cheryl publish Marriage Minutes E-Devotionals, FREE to your email inbox, 5 days a week.  You can sign up for Marriage Minutes E-Devotionals, by writing to office@bobandcherylmoeller.com. He is not a licensed or professional counselor, but rather a pastor to couples. He earned his Doctor of Ministry degree from Trinity Evangelical Divinity School.  Write Bob: forkeepsministries@gmail.com

Want to keep up to date with TV and radio topics, notes, events, conferences, and news?  Join For Better For Worse For Keeps Ministries Fanpage on Facebook.
Bob and Cheryl, have been married 31 years and are the parents of six amazing children (ages 11 to 27), one awesome son-in-law, one grandbaby-to-be, and three lively dogs with large appetites.