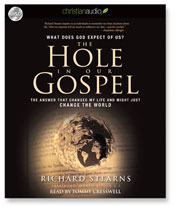 The Hole in Our Gospel just received the Christian Life Book of the Year award from ECPA!
The Hole in Our Gospel
by Richard Stearns and read by Tommy Creswell
Published by Thomas Nelson and distributed by christianaudio
This is a story of how a corporate CEO faced his own struggle to obey God whatever the cost, and his passionate call for Christians to change the world by actively living out their faith. Using his own journey as an example, Stearns explores the hole that exists in our understanding of the Gospel.
Coupon Code: MAY2010
Discount Price: $0.00
Retail Price: $14.98