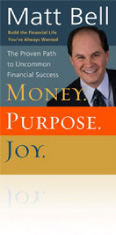 Matt Bell has written a must read – must study book here! It's subtitle, "The proven path to uncommon financial success," explains the value of this book. Using time-tested principles from both the Bible and from secular writers, Bell shows us the importance of living out our values.
Starting from a very different location – our heart and soul – this book helps the reader answer the most important questions BEFORE they take the accounting journey one finds in almost every other resource. Harkening back to my days of elementary school, I can almost hear Matt asking us (the readers), 'What do you want to be when you grow up?' Using two very specific questions: 'What truly matters?' and 'What matters most?' Bell helps us focus on what's really deep inside. And once these heart dreams are locked down, the rest is practical math and diligence!
Money, Purpose, Joy shows us how to reach our real desires, goals and values through practical, easy-to-understand steps. Once he helps us cement our real goals down, Bell then takes us through the process of achieving those dreams. Using humor and real life transparency, this is a book men will appreciate. Guys, don't miss the story of Matt's life traveling the world as a golfing magazine reporter.
Definitely a 5 out of 5 stars for this book! A MUST read and study.
You can order Matt's book here!
You can learn more about Matt's ministry and receive his free newsletters here!

Disclosure of Material Connection: I received this book free from NavPress Publishers as part of their Blogger Review program. I was not required to write a positive review. The opinions I have expressed are my own. I am disclosing this in accordance with the Federal Trade Commission's 16 CFR, Part 255: "Guides Concerning the Use of Endorsements and Testimonials in Advertising."