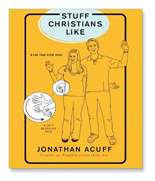 Each month christianaudio gives away a premium audiobook download for free. How does it work? Well, we give away one audiobook download (that we have published or that a partner has allowed us to give away) absolutely free; available only during that month and only once, ever.
Christianaudio, Zondervan, and Jon Acuff have partnered together for the month of April 2010 to bring you the audiobook download of Stuff Christians Like for FREE! 100% funnier than The Shack and 100% freer than Amazon!
Instructions: Add the download to your cart and use the coupon code APR2010 when prompted to receive this month's free download! You must use the code to receive the download for free.