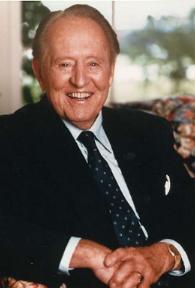 Art Linkletter was the host of two of the longest-running shows in United States broadcast history: House Party, which ran on CBS radio and television for 25 years, and People Are Funny, on NBC radio-TV for 19 years. Linkletter was famous for interviewing children on House Party and Kids Say the Darndest Things, which led to a successful series of books quoting children.
In his autobiography, Confessions of a Happy Man (1960), Linkletter revealed that he had had no contact with his natural parents or his sister or two brothers since he was abandoned when only a few weeks old. He was adopted by Mary and John Linkletter, an evangelical preacher. Later moving to the United States, he graduated from San Diego State University (SDSU) where he was a member of the Alpha Tau Omega fraternity. He had previously planned to attend Springfield College, but did not for financial reasons. He later served for many years as a trustee at Springfield College, and donated money to build the swim center named in his honor.
He has had one of the longest marriages of any celebrity in America. He married Lois Foerster on November 25, 1935 and they had five children: Arthur Jack (known as Jack Linkletter, a TV host), Dawn, Robert, Sharon, and Diane. He was a good friend of Walt Disney. It might be coincidence, but Walt Disney's children, who arrived first, were also named Sharon and Diane.
(Source: Wikipedia)