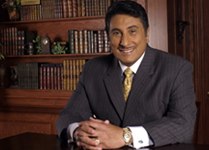 Michael Youssef, Ph.D.
Even before he was born, it was evident that God had a vision for Michael Youssef. His mother was in poor health at the time she became pregnant with Michael, and because her life would be jeopardized by the birth, the doctor recommended terminating the pregnancy. But God intervened, and sent the family pastor to reassure them the night before the procedure was to take place that God was involved in this pregnancy, not to be afraid, and that this child would be "born to serve the Lord." His mother gave birth, and lived to see him surrender his life to the Lord in 1964 at age sixteen.
He founded The Church of The Apostles in 1987 with fewer than 40 adults with the mission to "Equip the Saints and Seek the Lost." The church has since grown to a congregation of over 3,000. This church on a hill was the launching pad for Leading The Way's international ministry. While heard by millions at home and abroad, behind every message preached over the airwaves is a pastor's heart, longing to feed and care for people.
Michael Youssef has authored more than 20 books, the most recent being 15 Secrets to a Wonderful Life. He has also produced numerous teaching series and booklets on a variety of important subjects to further assist believers in their spiritual growth and maturity on their journey of faith.
You can learn more about his ministry at http://www.leadingtheway.org.
Sponsor: Try GotoMyPC free for 30 days! For this special offer, visit www.GotoMyPC.com/podcast