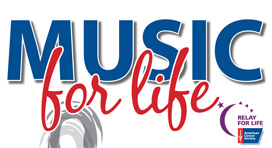 Local musicians raising voices in fight against cancer
From Sun Prairie Today.
Cancer has a voice in Sun Prairie.
Thousands of voices, actually. One for each person who's been affected by the deadly disease — either directly or through friends or family who've waged battle with the illness.
At 5 p.m. Sunday, a group of musicians from Bethlehem Lutheran Church, 300 Broadway, will use their voices to raise money for a cure.
Faithful, the congregation's contemporary band, will put on a free-will offering concert, performing music by a variety of contemporary Christian artists includng Chris Tomlin, Casting Crowns and Third Day.
The event is open to the public. All donations will support Sun Prairie Relay for Life.
Between songs, band members will share testimonies about their own experiences with cancer and the important role faith has played.
Former Sun Prairie resident Mike Powers — a Christian radio host (WNWC) and the voice of Cardinal football (KSUN) — will serve as MC. He recently overcame his own battle with prostrate cancer.
Powers will be the honorary co-chair of this year's Sun Prairie Relay for Life event.
In addition to the music, there will be plenty of good food available for munching between sets and after the show.